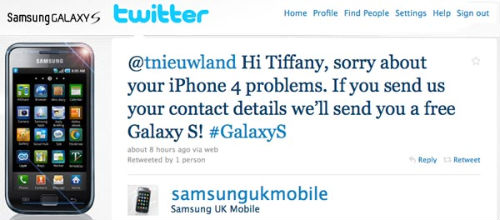 Samsung has been quietly giving out free Galaxy S handsets (the European version) to a few lucky British Twitter users. Apparently four of them were complaining about their iPhone 4s, while the fifth guy needed help to choose between the Desire, iPhone 4 and Galaxy S.
It looks like they are only picking certain ones though for some cheap publicity. For instance, Tiffany works in Digital Marketing for Condé Nast. The other ones also appear to be involved in marketing or publishing, with the exception of one student.

So you probably won't be getting one if you go tweeting about it.
free, Galaxy S, iPhone 4, Samsung, twitter