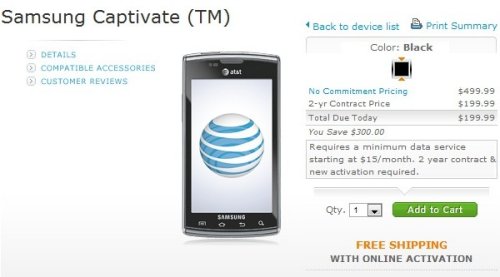 Right on schedule, the Samsung Captivate is shipping from AT&T. We know that you've been waiting for AT&T's latest high-end Android smartphone and now you can get it in your hands.
The Captivate is AT&T's version of Samsung's Galaxy S line of high-end Android phones, with a 4-inch Super AMOLED screen and a 1GHz Hummingbird core. Why not go ahead and add this Android 2.1 handset to your shopping cart?

Some other features include a 5MP camera that can record 720p video, and up to 32GB of combined onboard and external storage.
AT&T, Captivate, galaxy, Samsung, shipping, smartphone