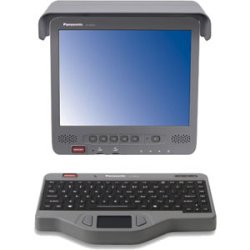 Panasonic has announced its latest Toughbook Permanent Display Removable Computer (PDRC) which will merge a vehicle-mounted display and full-functioning keyboard together for heightened accessibility within public safety vehicles.
Some of the upgrades to the PDRC include a brighter touchscreen display, improved user visibility and less connection cables. This will be add unprecedented flexibility to in-vehicle computing and it will work seamlessly with other Toughbook mobile computers like the Toughbook U1, H1 Field, 19 and 31.

It runs the Windows 7 operating system. You can get the updated Toughbook PDRC for $2,279 with a standard three-year limited warranty.
Panasonic, PDRC, Permanent Display Removable Computer, Toughbook