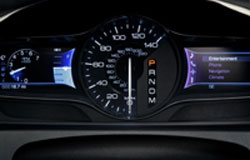 Last week I spent a couple days with Ford in Dearborn, Michigan checking out the new MyFord Touch and Sync system that will debut first in the 2011 Edge SUV. This very cool system allows the driver to customize the view on the instrument panel to suit whatever their focus is.
The MyFord Touch system on the 2011 Edge has a large analog tach in the center of the cluster with two smaller 4.2-inch LCD screen on each side. Using the dual D-pad controller located on each side of the steering wheel you can move through all manner of gauges and information related to the entertainment, navigation, and climate controls of the vehicle. The system also has a larger 8-inch touchscreen in the dash that shows navigation and other items.
The D-pad on the left side of the wheel and the left LCD screen are for gauges. You can choose to show all sorts of gauges like fuel economy, a tachometer, and all manner of other informational gauges on the left screen. The right side screen and D-pad offer access to the same functions that the larger 8-inch screen shows.
On the right side of the screen, you have the four main categories of the cars infotainment system. You can choose from phone, navigation, entertainment, and climate. The entire system is also voice controlled using the Ford Sync technology. From the right screen and d-pad, you can move through all the appropriate menus for all the cars functions.
In addition to viewing the menus on the right side LCD, you can also find the same details and information on the larger 8-inch dash mounted LCD. These functions can also be accessed using your voice with the Sync technology. The entire system is very cool and high tech. It is also surprisingly easy to use despite the deep level of control and access you have to the functions. Ford plans to use the MyTouch system on many of its vehicles in the coming months and years. The main reason for the MyFord Touch system and the Sync system is to allow the driver to have access to the features they need and want without having to remove their eyes from the road for extended periods.
Cars, Ford, MyFord Touch