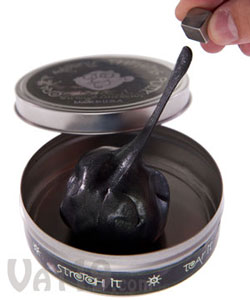 I bet there are many geeks out there who played with Silly Putty as a kid. You remember the stuff you could stretch it, tear it, bounce it and more. Vat19 has a new kind of putty called Magnetic Thinking Putty.
This stuff is very similar to Silly Putty in that you can shape it and bounce it. The big difference is that the Magnetic Thinking Putty has millions of tiny magnets inside the putty and you can make the putty stretch and dance using a powerful cube magnet that is included.
This is cool, when you hold that magnet near the putty, the putty will stretch and reach towards the magnet. The stuff sells for $13.50 and is for kids 9 and up.
geeky, Toys