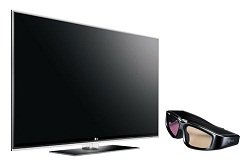 LG is finally preparing to make a really big push into the 3D market as it has started to offer its first Blu-ray 3D players and 3D TVs, and even putting both together into 3D bundles. They recently rolled out the Infinia LX6500 47″ LED TV along with the LX9500 55″ LED TV, which are its first 3D-ready TVs.
To compliment these new TVs, LG is rolling out its first Blu-ray player that can handle Blu-ray 3D movies. The 3D active shutter glasses will cost extra. LG will even give a $100 discount if you pick up a 3D TV, 3D Blu-ray player and two pairs of activate shutter glasses. Not that that helps much.

Oh and a free copy of the movie IMAX Under The Sea 3D.
3D, Blu-ray players, LG, tv