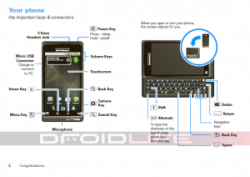 We know that you want to read up on the Droid 2 before it hits stores some time in August. Lucky for you the user guide has leaked and it gives away a few key details as to what you can expect from this new Droid family member.
As Droid Life notes, there's more confirmation that the phone will be running the same skin as the Droid X, with the Swype-enabled (and multitouch-enabled?) soft keyboard. Looks like Android 2.2 will come preloaded too.

Is this phone going to be a winner? What do you think?
Android, Droid 2, leak, User Guide