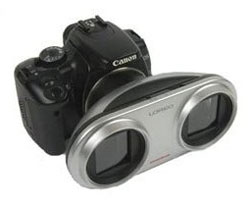 When it comes time to shop for a new gadget, I'm not one to buy based on looks alone. If you show me an ugly device and a cool device with the same performance, I will go for the attractive gadget for sure. If the ugly device is the only option then ugly it is.
Such is the case with this new 3D lens from Loreo for Canon DSLR cameras. The lens is not pretty in a silver looking color attached to a camera that is black. The fact that the massive lens is wider than the camera in the picture makes it look even stranger.
The lens locks onto the front of most Canon DSLR cameras just as any lens would and allows you to snap 3D pics. Those pics can be viewed with the Loreo 3D viewer or turned into other format 3D shots. The lens is only $165 making it a cheap way to get into 3D photography.
3D, Canon, DSLR