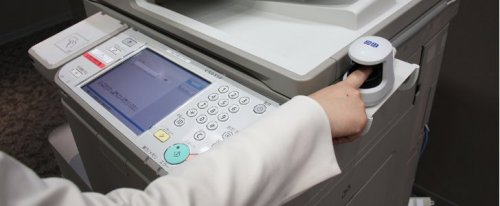 Guys like me are lucky. We get to work from home and bring you all of the latest gadget news. But there are some things that you miss about the office. Like abusing photocopiers. Whether just scanning some copies of your butt, or full on getting mad and giving it a good kick when it misbehaves, abusing these machines may be a thing of the past thanks to Canon.
In Japan, Canon has teamed up with Hitachi on a new fingerprint scanning system for their multi-function boxes which photocopy, print, scan and fax, so only those allowed to use the machine can use it. We also figure it will link butt-scans to the fingerprints they belong too.

They go on sale in Japan this week for about $1,460.
Canon, fingerprint, Photocopiers, Scanners