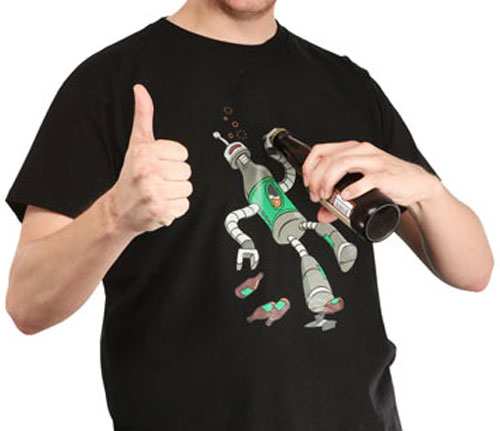 ThinkGeek has all sorts of epic geeky clothing and gadgets. The company often combines the geeky clothing with some sort of useful feature like a shirt that has a guitar you can really play.
The latest shirt from ThinkGeek is the BeerBot Bottle Opening Shirt. The thing is offered for about $20 and is in small to XXL. The front of the shirt has a screen-printed robot that is in the shape of a beer bottle, but reminds me a lot of Bender.
The robots left hand has a metal claw sticking out the front of the shirt that can open bottles of beer or root beer for those under age students out there. Imagine how popular you would be at your first frat party of the new school year wearing the hottest piece of clothing there. Other than, that hot chick in the bikini top and short shorts anyway.
clothing, thinkgeek