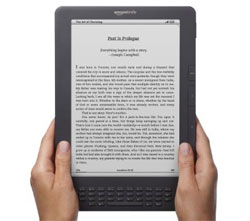 Amazon is keeping it's word about the graphite Kindle DX shipping today. The first shipping notices are now going out. You should have it very soon.
The e-reader is also still listed as in stock, so it looks everything is good if for some reason you didn't get your pre-order in on time. Maybe they have a larger supply or perhaps there is a reduced demand, you make the call.

Our feeling is that at $379, it's bound to move slower than the regular $189 Kindle.
Amazon, graphite, Kindle DX, shipping