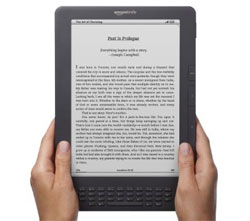 I just mentioned that the original Kindle was the deal on Woot today. Amazon has also announced a new Kindle DX with a big screen in a new graphite color. The new DX has a 9.7-inch screen and offers 3G connectivity.
Like previous DX models, that wireless connectivity is free. The device has a screen with 50% better contrast than previous models and the screen can be read in direct sunlight. The overall size of the device is 10.4″ x 7.2″ x 0.38″.
The graphite eReader will sell for $379 and is available right now. The gray Kindle should stay cleaner than the white one I guess. It looks pretty cool, but I'll stick with my iPad.
Amazon, kindle