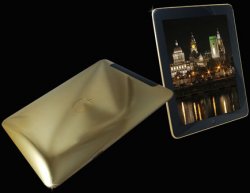 Add another to the growing number of luxury i-products from Stuart Hughes. The new iPad SUPREME FIRE Edition from Stuart Hughes weighs 2.5 kilograms and is made of 24kt solid gold.
Get your ransom money ready, you will need it if you ever leave your home with this thing. It will cost you about $165,000 (or £109,995 GBP) and for that price you'll be getting the 3G 64GB iPad.

I look forward to their next product, which will most likely contain moon dust, swarovski crystals, diamonds, gold, crushed dinosaur fossils and Steve Jobs DNA. I'm hoping it's only 1 mil.
$165K, 24kt Gold, iPad, Stuart Hughes