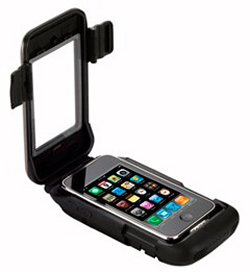 You could go for a plain jane iPhone case or you could opt for Magellan's waterproof Toughcase, priced at $199.99. Two hundred bucks gets you IPX-7 waterproof standards, allowing it to be submerged up to one meter for up to 30 minutes, and there's also an integrated 1,840mAh battery that can "double the life" of your iPhone 3G, iPhone 3GS or second / third-generation iPod touch.
There's also a high sensitivity SiRFstar III GPS chipset for quality GPS reception, and you can still access the touchscreen. You get all of that, but your device loses any sexiness it ever had and there's no official support for Apple's newest iPhone.

Still, we like the idea.
GPS, iPhone, iPod Touch, Toughcase, Waterproof