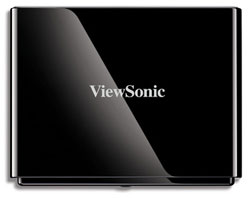 Viewsonic has been creeping into categories where it hasn't traditionally played over the last months. The company now offers things like netbooks and notebooks and has unveiled its first network media player.
The device is called the VMP75 and it can stream just about every audio and video format around. The system can stream online content like Netflix, YouTube, Live3655, Flickr and more. You can also shoot media on your PC over the to the TV in the living room.
The device has HDMI, composite, optical audio out, eSATA, and USB connectivity. A Ethernet port is built-in for connecting to your network and a wireless adapter is optional. The device has an MSRP of $149.99 and can be pre-ordered from Amazon or Newegg now.
Digital Media Player, Viewsonic