Turtle Beach has unveiled its latest headset for gamers called the Ear Force PBT.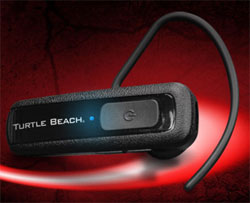 The Ear Force line has a ton of headsets in it and some of them offer surround sound and other special features for gaming. The special feature for the PBT is that it is a Bluetooth headset.
The PBT connects to the PS3 wirelessly and looks like a Bluetooth headset for a mobile phone. The device can pair with two devices at once. That means you can pair to your mobile phone and the PS3 allowing you to answer calls during the game.
The PBT also has a 2.5mm mic jack that lets you use the Ear Force X31 or X41 headsets for the Xbox 360 on the PS3. The headset will ship next month for $49.99.
headset, Turtle Beach