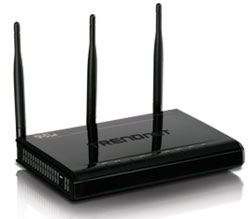 When it comes to gadgets and electronics there are few things that we don't want more of. We always want more performance, more bandwidth, and more battery life. Trendnet has announced that its latest router offering more wireless bandwidth than other devices on the market is now ready to ship.
The router is the TEW-691GR and it is designed to provide 450Mbps of theoretical wireless bandwidth. To get that level of performance Trendnet uses three antennas that each broadcast three spatial streams per antenna on 2.4GHz spectrum.
The antenna tech also improves wireless coverage and signal strength. The router also supports the latest encryption standards and a firewall built-in. It also has WPS and more. It will sell for $199 and will be in retail outlets soon.
router, trendnet, Wi-Fi