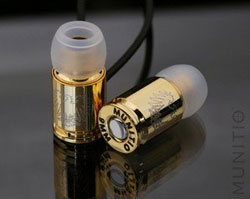 I have seen my share of strange earphones over the years. Some of the strange sets I have seen look like mushrooms growing out of your ears, bolts, and arrows to name a few. A company called MUNITIO has unveiled a new set of earphones that are interesting.
The earphones are called the Teknines Nine Millimeter Earphones and are set to launch later this month. The earphones certainly fall into the premium category with a price of $250. For that much loot, you get earphones that look like 9mm bullets.
The copper case is plated in 18K gold and stamped with 9mm and the company name. The drivers inside the case are 9mm with neodymium magnets. The silicon ear tips are called SiliconeHollowPoints even. The Kevlar reinforced cable has a 3.5mm jack to work with most devices. A titanium version is coming later in the summer that we hope is more affordable.
earphones