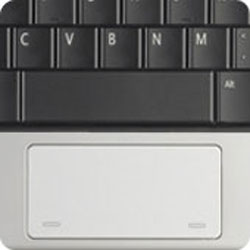 When I first started using my netbook when I travelled for work I often ended up hitting the track pad with the palm of my hand. That made whatever I was typing end up in a place other than where I wanted it to be. I ended up having to turn the track pad off when I was doing lots of typing to stop that from happening.
Synaptics has announced new technology at Computex that will stop accidental activation of the track pad by the palm of your hand. The tech is called TouchPad-IS and is capable of recognizing up to four fingers.
When the track pad recognizes the palm instead of fingers, it just doesn't work. Synaptics also showed off a track pad without the buttons. The track pad itself clicks allowing for a larger gesture control area.
netbooks, Notebook, synaptics