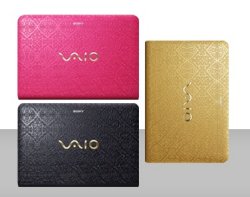 Summer is officially here and so is Sony's Signature collection for Summer 2010. This seasonal collection includes 9 different models of Sony VAIO''s and one J118FX all-in-one touchscreen PC. The interesting ones are the three limited edition VAIO EA laptops: The Arabesque Pink EA, Arabesque Gold EA, and Arabesque Black EA.
The trio retail for a starting price of $919.99. The textured design and gold accents should appeal to the ladies. They start shipping on July 20th, the same date husbands wander where their $919.99 has gone.

They are all limited edition pieces.
signature, Sony, Summer 2010 Collection, vaio