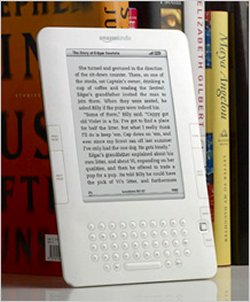 Whether you own an ereader or not, chances are you've heard all about how self-publishing is easier today than it has ever been before, allowing authors to quickly and easily publish their work. And I'm here to tell you that it's true. However many authors out there still haven't taken advantage of it.
Maybe you don't have the time to look into it, maybe you're still getting over the sting from all of the rejection letters you got in the old days, with the old way of publishing. Whatever the reason, many times we hear about new and great ways to do things and it just goes in one ear and out the other. Probably because we think there has to be a catch.

We say to ourselves, Sure it might be easy, but I bet it involves a huge time commitment, or a massive restructuring of my thousand word novel. There has to be a catch. Well, yes and no. Back to that in a minute.
In this article I'm just here to remind you that yes, it really is easier than ever to get your written works published. As someone who has just published a Novella for the Kindle using Amazon's Digital Text Platform, I'm going to tell you my experience so far. (And then plug my book) I think hearing it from me will get some of you to finally publish that dusty old novel, so that it can live and breath and be enjoyed by others.
So I'll start at the beginning. Have something to publish. Check it over for grammar, spelling, indents, all of the usual stuff. Polish it. When you have what you consider to be your masterpiece, you are ready. Head on over to Amazon's DTP (Digital Text Platform). You'll need to create an account if you don't have one already.
Publishing with DTP is very easy and pretty effortless. You'll see a tab that says ADD NEW ITEM. Click it. All you have to do is fill in the various forms. Your book title, Author name, synopsis etc in four easy steps. One of those steps is to upload your book. You can upload files in MS Word, HTML, or PRC format. They claim that PDF format has problems, but I never tried that. Here you can also preview what your book will look like on the Kindle and if necessary tweak it using HTML.
The whole process is super easy, but not perfect. First, I uploaded my file as a word file, but for some reason it caused all of my indents to disappear. Then I uploaded it as HTML and except for the first paragraph, my format remained intact. So after that, just set the price, look everything over and you are ready to publish. Publishing will take anywhere from 24-72 hours.
I would say that Amazon's system is nearly perfect. It just needs a more user friendly and modern way to edit your work within the interface.
Next, I wanted to make it easier for others to have my book. Not everyone has a Kindle. Lots of folks are rockin' iPads too. And there's also Barnes and Noble. So Smashwords seemed like it would be a good place to upload my book. Everyone seems to like the Service. They act as a sort of middleman and make it available to several other markets and devices, like the iPad and Barnes and Noble.
Well, in my experience so far, it leaves a lot to be desired. At first it seems like it would be easy enough. But it requires your book to be in a specific format so that they can do what they do. There's even a fairly large how-to on the site to guide you through the process of making it happen. Problem is, it assumes that you use MS Word and some of the instructions seem vague. At least, to me. I eventually gave up. I'm sure they will improve the process at some point, but for right now it's more complicated then it needs to be. And to be fair, maybe I should shell out the money and actually use MS word. (I'm using open office now) So for now, my book is just on Amazon. If any of you know a super easy way to format for Smashwords, I'm all ears.
So yes self-publishing is a breeze on Amazon. Other places, not so much. I'm looking forward to one standard with easy publishing everywhere. There really is no excuse not to publish your work these days. Hopefully I've helped a few of you.
My book? It's a novella I've had lying around for several years. I like to think it's pretty awesome, but of course I would. If you like classic Sci-Fi adventure, you might like this one. The writing style in this one is similar to some of Robert Heinlein's work. I'll just give the blurb and leave it up to you
The Side-Stepping Sci-Fi Writer.
Jack and Gab are not your typical time-travelers. This is not your typical time-travel tale. Together they traverse time and space "side-stepping" from our universe to the next, stopping back home occasionally so that Jack can chronicle their exploits under the guise of Science Fiction.

When they suddenly find themselves somewhere not of their own choosing, the fast-paced adventure begins. One that will have the wise-cracking duo fleeing robots and even the planet itself as they seek to unravel the mystery of who or what brought them there. And for what purpose.

The fate of the Earth, the Lunar colony and Mars are in their hands. You wouldn't want it any other way.
It has one review up already that also gives you an idea of what to expect.
But regardless of the plug, I really hope that this inspires some of you to give self-publishing a shot. It's easy. And will only get easier. You didn't write what you wrote to have it collect dust, now did you? If you have any publishing questions that I didn't cover, I'll do my best to answer them.
Amazon, books, Conner Flynn, Digital Text Platform, ebooks, help, Review, Sci-Fi, self-publishing