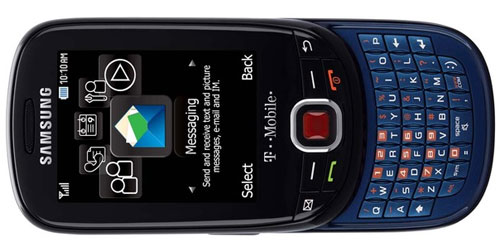 I have a thing about names. I won't call a grown man by a nickname. I think if you were meant to be called BL@m0, that's what your mom would have named you. I blame Prince for the debacle with the new Samsung messaging phone that has no name, only a symbol.
That symbol is the smiley emoticon. You know the one. The phones official name is the Samsung

. Yes, I am serious that's what some dumbass at Samsung actually called the phone. If you buy this low-end device, what are you supposed to say when someone asks the inevitable, hey what phone is that question?
With the

being decidedly low-end, odds are that won't be asked that frequently. The handset has a 1.3MP camera and a QWERTY keyboard for messaging. Pricing and availability are unknown and it will be a T-Mobile device.
phone, Samsung