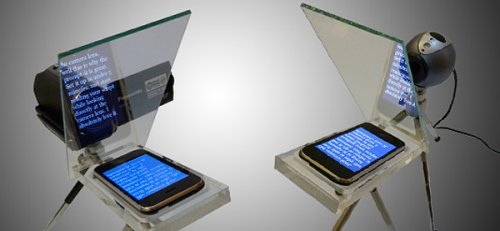 Is there anything that the iPhone can't do? The latest odd use for the iPhone is to use it as a teleprompter. The Prompt-it kit will let you set up your iPhone as a mini-teleprompter, so you can read your lines, while still looking at the camera. Just like a news anchor.
Apparently it's good for reading a speech when you're on your laptop's webcam, but if you are on your laptop, why not just put the lines on your laptop's screen? It's pretty neat, but not really practical.

Using the iPhone's small screen as a teleprompter means you better have good eyes. An iPad version makes more sense.
iPhone, Prompt-It, teleprompter