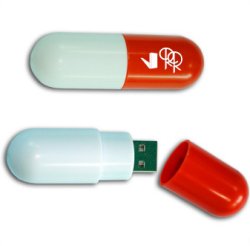 For those looking for something different in a flash drive, check out Rollin Rockers's new limited edition LP. It comes in a very unconventional form factor. A pill shape. This Pill Shaped USB flash drive will cost you $15 each.
Aside from all the songs that you get on a regular LP, the additional space on the USB flash drive features music videos, photos and exclusive Rollin Rockers content to keep fans happy.

It shouldn't be a problem for you not to confuse this one with other pills you take, unless you take giant horse-sized pills.
Pill, rollin rocker, USB flash drive