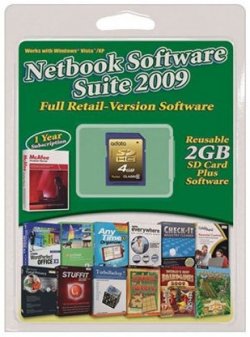 How do you get people to buy bloatware in this day and age? Well, you definitely have to try a new gimmick. Maybe by bundling software packages onto a USB drive or SD card. That's exactly what PC Treasures is doing with their Netbook Software Suite.
For $35 or less, you can buy their Netbook Software Suite that comes with a 4GB SD card, or a USB drive that is bundled with a whole bunch of software. Stuff like McAfee VirusScan Plus 2010 with a 1 Year subscription, ACDsee Photo Manager, Anytime Organizer, CheckIt Registry Cleaner, Corel WordPerfect Office X3, Cyber Patrol Parental Controls, Laplink Everywhere 5, Mahjongg Ancient Mayas, Stuffit Deluxe 2009; Sudoku, Kakuro, and Friends; SurfSecret Total Privacy Suite; Turbo Backup 7.2; World's Best Boards Game; and Thunderbird email.

Bloatware on a stick anyone? Anyone?
bundle, Netbook, Software Suite, USB drive SD Card