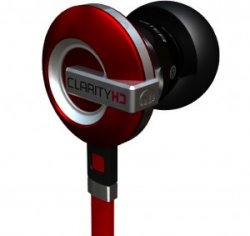 Monster Cable has announced the upcoming Clarity HD Modular In-Ear Headphones, which look good. These are available in a black/red version or a chrome/red version. Both are made with a solid-metal construction and the headphones are apparently ideal for listening to high quality/uncompressed content from your iPod, iPhone or iPad.
They come packaged with 10 pairs of Monster's SuperTip eartips in the composite foam version, and SuperHooks to make the headphones more secure for joggers. The new Monster Clarity HD In-Ear Headphones also sport ControlTalk for making phone calls.

They will retail for $199 in September.
Clarity HD, Headphones, In-ear, modular, Monster