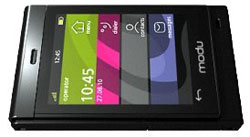 I recall seeing the Modu mobile phone at CES a few years back and thinking it was a cool idea. The device is a tiny cellular phone module that you can slip into various different cases to completely changes the device and its interface.
A new Modu phone has surfaced and it is called the T-Phone. The device has a touchscreen and looks like a slick little interface as well. The handset is the first from Modu to have 3G connectivity.
Internal storage is 2GB and that is really all we know about it other than the price is expected to be about $500. When/if it will come to the US is unknown.
Mobile Phones, modu