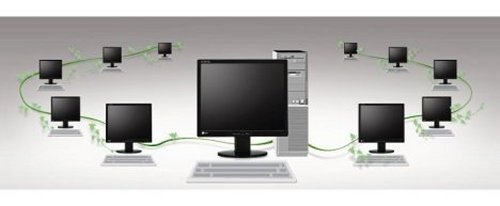 LG's freshly announced Network Monitor solution was unveiled at the 2010 International Society for Technology in Education Conference. It's available in 11 and 31 monitor options, giving your school a hassle-free virtual desktop computing option.
A computer's resources can be distributed to several users at the same time, dividing the resources into independent sessions. Some benefits of a setup like this include less heat and noise generated by multiple computers, reducing the carbon footprint, and even reducing the cost of purchasing computers.

Nothing on price yet, but it's aimed at educators.
LG, monitors, network, schools