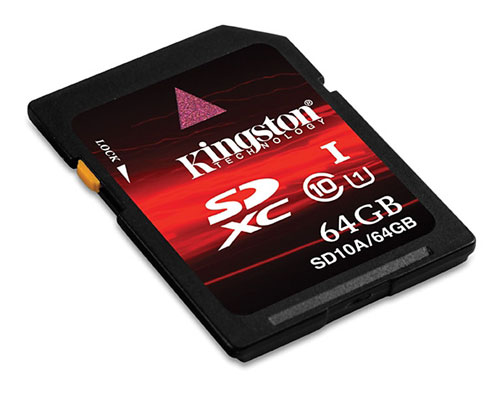 With Computex in full swing we are starting to see some new product get unveiled at the show. Kingston has announced some new stuff already this week and the company has now announced that it will be launching a new 64GB SDXC card.
The new card is called the 64GB SDXC UHS-1 Class 10 memory card. That is a long winded way of saying that the card is very fast and has ton of storage space. It is compliant with the SDA Memory Card Standard Version 3.01 and Ultra-High Speed Bus 1 architecture.
The cards support 104MB/sec maximum transfer rate and up to 300MB/sec speeds in the future. Kingston claims that its card is good for up to 60MB/sec read and 35MB/sec write speed. This much storage and speed comes at a high price, the card will sell for $499 and will ship at the end of the month.
Kingston, memory card, SDXC