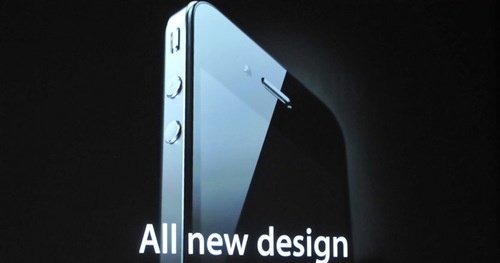 Apple's latest iPhone is official, complete with an A4 chip inside, just like the iPad. The A4 has a few interconnected chips, like the Cortex-A8 main processor unit with a PowerVR SGX 535, and two low-power 128MB DDR SDRAM chips. This means that they can process things faster while consuming less battery than before since they are connected.
The 3.5-inch screen sports a resolution of 960 × 640 pixels. It has four times as many pixels as the current iPhone 3GS' display. The screen has 326 pixel per inch resolution. Apple is also claiming an 800-to-1 contrast ratio which is four times better than the 3GS.

There's also a larger sensor for the main camera, with bigger lenses. The sensor will capture higher resolution video and photographs. And yes, the camera also has a flash. In front, there's a video conference camera, with standard VGA resolution that Will be used with third-party applications, as well as Apple's own video conference solution.
Another nice update is that the battery is 16% bigger than the current one. Coupled with the A4 processor and new display, you get a longer battery life: Apple says that it's 40% more talk time.
Apple, iPhone 4, official, wwdc