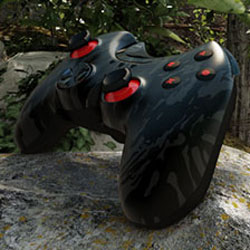 Some gamers get hooked on a specific control configuration when it comes to gaming and have a very hard time using anything else. Gioteck has announced a new Bluetooth PS3 controller called the HF-1 that uses the Xbox 360 controller layout.
The left analog stick and D-Pad are reversed from what a normal PS3 controller uses. The HF-1 does have some cool features. One of the cool features is a Flipswitch that changes the R1 and R2 positions for easy use.
The controller also has a turbo button for rapid-fire action when playing. Gioteck designed the controller with an eye towards comfort for gaming. It will hit the market before Christmas.
controller, Gioteck, PS3