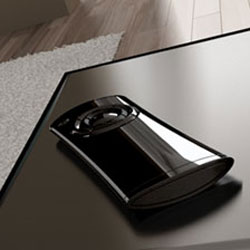 Gioteck was unknown to me until this week when it pulled the wraps off the new EX-01 headset that is headed to the US. The company has now announced a new MX-1 Media Remote that will be coming to the States as well.
The new remote is designed to control the PS3 with full control for Blu-ray, DVD and the Cross Media Bar. The catch is that the remote is apparently an IR unit, which the PS3 can't just pick up.
You will need some sort of IR adapter to make this thing work with your PS3. The glossy black remote has all the controls on a pair of rings and it about 4-icnehs long. Pricing and availability are unknown.
Gioteck, PS3, remote