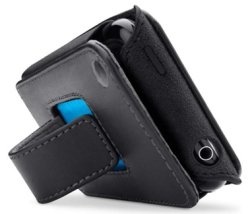 Belkin is one of the first companies out of the gate with new iPhone 4 cases. The new line-up includes the Verve Cinema for iPhone 4 which is a smart case that doubles as a kickstand when you use the foldout kickstand. That's handy for watching movies on the iPhone 4's new higher resolution Retina display.
The Verve CInema retails for $29.99. Belkin has also released three new arm band cases for the iPhone 4G. Those are the ProFit ($39.99), OneFit ($29.99), FastFit ($29.99) and DualFit ($24.99) are great for jogging and exercising.

The new phone means new cases, so you might as well start buying.
Apple, Belkin, Cases, iPhone 4