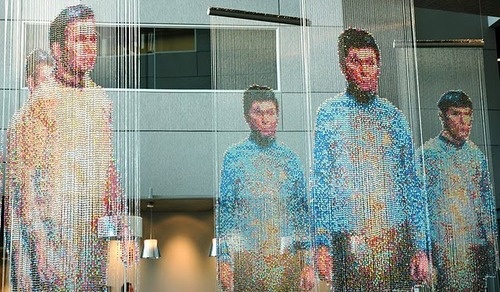 To boldly go where no man has gone before…And occasionally beam into Microsoft. Microsoft has an amazing Star Trek sculpture in the lobby of their Studio D office, that continually gives the appearance that Kirk, Spock and the rest are materializing. How cool is that?
The illusion is simple. Beads.The installation was inspired by the classic 1967 episode "Mirror, Mirror," and was created by Devorah Sperber, an artist known for creating illusions using unconventional materials. This artwork is made up of spools, chenille stems, and semi-translucent beads.

Though Apple fans would say that the crew is beaming UP rather than DOWN, having found no intelligent life.
art, beads, beams, Devorah Sperber, Microsoft, Star Trek