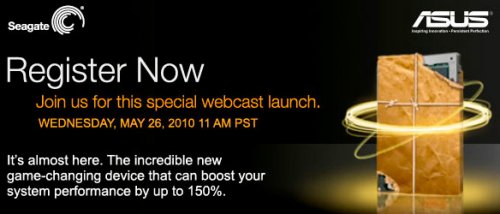 What do we have here? Seagate calls it a "device that becomes you, so you become faster." A "game-changing" device that will boost system performance by a whopping 150 percent. We are gonna go out on a limb here and say that since ASUS' ROG G73Jh gaming laptop will be first to use it, it must be a new kind of SSD.
The mystery device will be 20 percent quicker than a 600GB 10,000rpm SATA drive, 80 percent faster than a conventional 7200rpm HDD and able to boot "within six seconds of an SSD drive." It will learn about the user to dramatically decrease disk time, boot time, and application load time, making everything faster.

We'll know more on May 26th.
ASUS, laptop, ROG G73jh, Seagate, Storage, tech