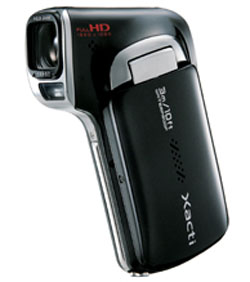 Waterproof cameras are a great way to film both winter and summer sports without worrying that you will break your camera. Sanyo has announced a new camera that it claims to be the world's first waterproof full HD camera.
The camcorder is the DMX-CA100 and will land in black, yellow, and pink colors in June. The camera is water resistant to IPX8 standards. That rates the camera for recording full 1080p video in up to 3 meters of water for an hour.
The camera can also shoot still images in 14MP resolution. Other features include a 12x zoom lens and the ability to shoot still shot bursts at 7 fps for up to 22 photos at a time in 2MP resolution. Pricing is unknown at this time.
camcorder, Sanyo