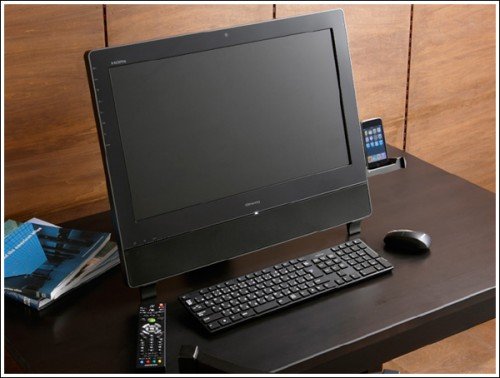 Onkyo has announced their new all-in-one desktop PC with integrated iPod dock. The Onkyo E713A9B is powered by an Intel Core i5-650 processor running at 3.20GHz, with 4GB of RAM (upgradable up to 8GB), a 1TB hard disk drive and a large 23-inch LCD screen with Full HD resolution (1920 x 1080).
The multimedia all-in-one PC features a Blu-ray drive, DTS Premium Suite Audio Codec, 5-watt speakers, a 1.3MP webcam, a digital TV tuner and an SDXC memory card slot.

Look for this one to be released for about $2,106 on June 17th.
all in one, E713A9B, iPod dock, Onkyo, pc