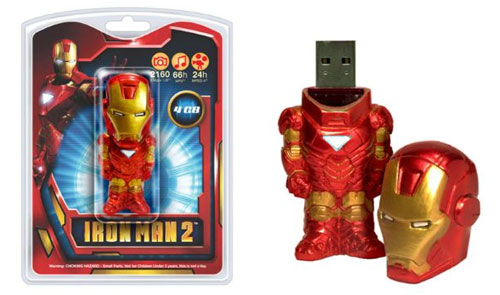 My son has been asking me to take him to see Ironman 2 since the first preview ran on TV. We went to see the flick last Friday when it opened and we were both pretty bored after only a bit of the movie had aired. It is far from as good as the first flick in the franchise.
I can only hope that the Ironman flash drive from Tyme Machines is more fun than the movie turned out to be. The company also makes flash drives that are sculpted to look like Star Wars characters.
The Ironman drive is sculpted and has a head that pops off to plug into a USB port. The drive comes in 4GB, 8GB, and 16GB capacities with pricing starting at $34.99. You can get your own Ironman drive now.
flash drive, USB