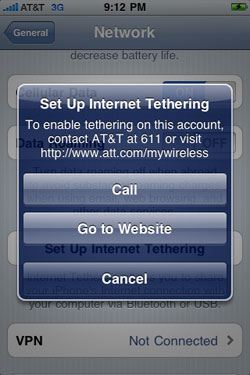 One of the things that many iPhone users have wanted for a long time was the ability to tether their device to a notebook for 3G connectivity. Apple added that feature into OS 3.0, but AT&T blocked tethering on the device.
The first betas of iPhone OS 4 didn't show any tethering features in the OS. However, a new OS 4 Beta 4 has surfaced that has some tethering features inside.
I am not getting hopes up, the last time we saw tethering features in the iPhone OS, AT&T squashed it. I don't know if things will be different this time around.
Apple, iPhone