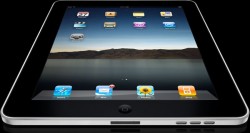 Apple has seen fit to release an update on its iPad sales numbers and they now top 2 million units in as many months. The device is now selling worldwide, which obviously helps to bolster the numbers. The supply is still a bit limited. As of last week, there was a one week delay on the iPad 3G.
Steve Jobs assures everyone that their patience will soon be rewarded as they are working hard to build enough iPads for everyone. To date, 5000 iPad apps have hit the app store.

Sure, many of them are upgrades of iPhone apps, but some are exclusive to the iPad. Pretty impressive.
2 million, Apple, iPad, sales, units