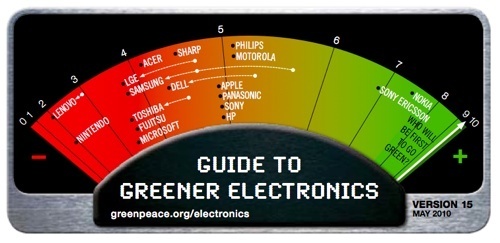 Once again this year, Greenpeace has given Nintendo the lowest score out of all the electronics companies it graded. However, this year, Nintendo's score was up! They scored 1.8 out of 10. I guess that's a bit of progress.
Greenpeace says that Nintendo scored most points on chemicals; it has put games consoles on the market that have PVC-free internal wiring and has banned phthalates and is also monitoring the use of antimony and beryllium. And though it is endeavoring to eliminate the use of PVC, it has not set a timeline for its phase-out yet.

The big N continues to score zero on all e-waste criteria and scores points on energy criteria, for the energy efficiency of its AC adaptor for the Nintendo DSi, which meets the requirements for external power supplies in the Energy Star program. It also gets a point on energy for disclosing carbon dioxide (CO2) emissions from its own operations.
environment, greenpeace, Nintendo