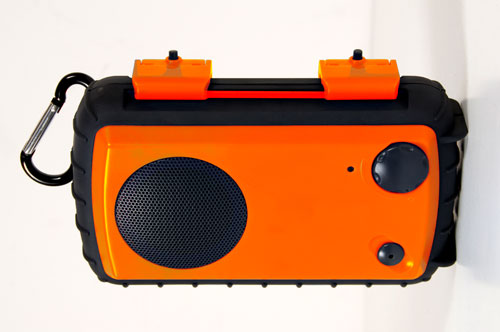 I don't like taking my gadgets near water or to places where dust is an issue. I don't want to kill my gear with an accidental splash or getting dust into the works. Grace Digital Audio has a new speaker for the iPhone, iPod and any other device with a 3.5mm headphone port that will protect your device while you listen.
The new speaker is called the Eco Extreme and it has a 3-inch full range driver in the front and attaches to a bag with a 2-inch carabiner. The speaker is rubberized to protect it from drops and is water resistant to IPX7 standards.
The speaker case opens up and you can put your player inside for protection and there is room for money, keys and other items. The speaker gets power form three AA batteries and promises 30 hours of playback per set. The Eco Extreme is available for $49.99 right now.
Grace Digital Audio, MP3, speaker