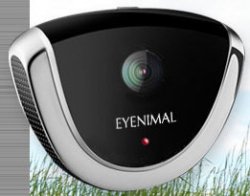 The Eyenimal Digital Pet Camera is the first miniature video camera that allows dog and cat owners to see things the way their pet does. The camera hangs around your dog or cat's neck and captures VGA resolution video at 29 frames a second for 2 and a half hours per charge.
Listen, if you're putting a camera around your pet's neck just for kicks, so you can watch some boring ass video of your mutt sniffin' another mutt's ass, you need to get a hobby.

The Eyenimal Digital Pet Camera has 8GB of storage space and a USB port to transfer the recorded video to your Mac, Windows or Linux computer. Only $120. Your pet would prefer you just leave it alone and get a life.
camera, digital, Eyenimal, pet