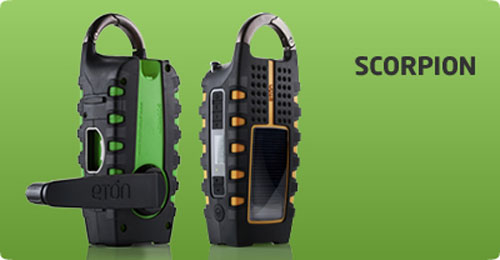 I am more of an indoors type. I'm not really into camping and while I do go outside with the kids a lot, we don't stray too far from an outlet. However, a while back when a hurricane came through the power was out for hours and I would have paid dearly for a gadget like the Eton Scorpion.
The device is a power generator for USB charging gadgets that has both a solar panel and a hand crank to generate charging power. The gadget also has a number of other features inside.
It has an AM/FM tuner, NOAA weather band radio, and a flashlight. The device is rugged and is splash resistant. The Scorpion even has a bottle opener so while you beer will be hot in a power outage, at least you can open it.
charger, Eton, Green