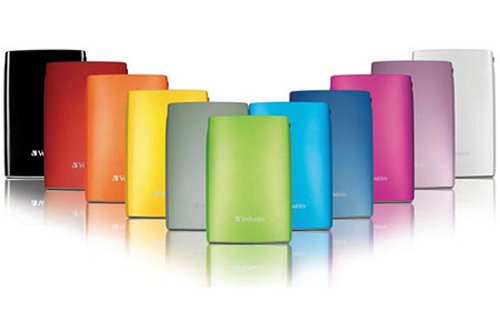 Just look at all of those mouth watering colors. Verbatim's new Store 'n' Go external hard drive is based on a 2.5″ form factor and will hold up to 1TB of data. That rainbow of colors seems to match the season as well. They come in red, blue, green, white, black, silver, purple and orange.
It connects via USB and sports a Green button to send it into an energy-saving sleep mode if you care about the environment. Each drive comes with Nero Rescue and Nero BackItUp Essentials and Burn software. Your choice of 250GB, 320GB, 500GB, 640GB, 750GB and 1TB capacities for $80, $94, $107, $121, $134 and $256.

There's a size and price for everyone.
1TB, 2.5-inch, External Hard Drive, Store 'n' Go, Verbatim