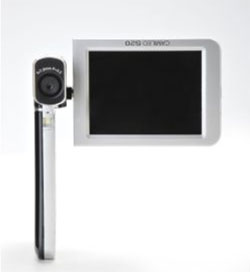 We heard about the Toshiba line of camcorders way back in September of 2009. I'm not sure what took the things so long to land in the US, but Toshiba has announced that the cameras are finally available here.
The line includes the Camileo S20, H30, and X100 camcorders. The S20 is a tiny camcorder 0.67″ thick and weighing only 3.5 ounces. It has a 4x digital zoom, direct YouTube upload button, and a 5MP CMOS sensor. It can record in 1080p resolution.
The H30 has a 5x optical zoom lens, 3″ touchscreen LCD, 10MP sensor, and 1080p resolution. The X100 has 10x optical zoom and a 3″ touchscreen and can record 1080p at 30 fps or 1080i at 60 fps. All of the cameras will hit stores on April 19 with the S20 at $179.99, the H30 at $249.99, and the X100 for $399.99.
camcorder, Toshiba