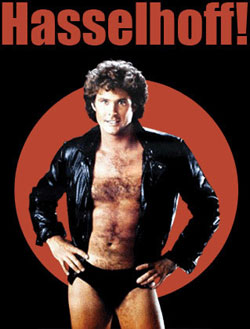 We have talked about NavTones before. This company takes the voices of celebrities, or those who were at one time celebrities and makes them into the novice of your GPS unit.
The latest fauxlebrity to lend a voice to NavTones is David Hasselhoff. This dude hasn't been cool since Knight Rider. You can get The Hoff's voice for $6.95 and it works on TomTom or Garmin GPS devices.
Surprisingly, there is no retching or slurred speech in the sample on the Navtones site. I am sorry about the picture too, I threw up a bit as well when I found it.
GPS, NavTones