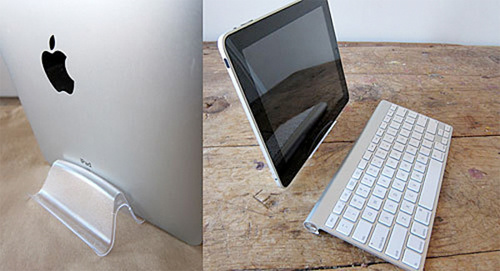 Yesterday we told you about the most expensive iPad stand we've seen for $130. Now here's the cheapest one we've seen. It's actually a $0.69 business card holder from Office Depot. Would you trust your $500+ iPad on this thing?
If it holds it securely, there's really no reason not to. It works well enough for Andrew Devigal, multimedia editor for The New York Times:

Of course, this isn't made for the iPad. So don't expect the stability you'd want from rough handling or turbulence on a flight. And when used in tilt mode for on-screen keyboard typing, the curved top and smooth surface don't really give enough traction to prevent from the occasional slippage. I ended up putting some gaffers tape to improve the friction.
We'll probably hear from him again when it topples over and dies.

[Gizmodo]
Apple, cheapest, iPad, Stand