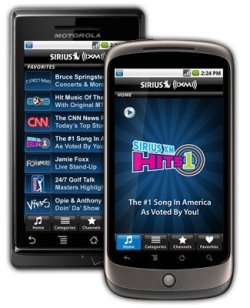 iPhone and iPod touch users have had a Sirius XM app for about a year now, and Android users will soon be able to get in on it as well. Right now there's still no launch date, but the app is "coming soon,".
Apparently it will be pretty identical to the iPhone OS version, with support for streaming over WiFi and 3G. But it seems like Sirius XM is saying that the app will only be available for the Droid and Nexus One, which is strange.

When we hear more, we will let you know.
Android, app, droid, Nexus One, Sirius XM