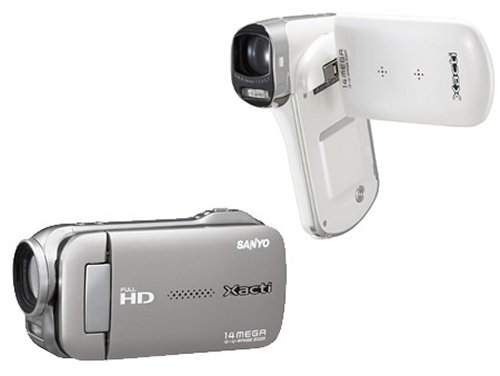 Sanyo has announced two camcorders in their Xacti range, the DMX-CG100 and the DMX-GH1. Both are capable of full HD video recording (1920 x 1080) but come in two different form factors. The DMX-CG100 is available in white lead-red (that's really the name) and blue with the vertical form.
The DMX-GH1 is a more conventional form and is available in silver, pink and blue. They're equipped with 1,440 ten thousand pixels CMOS sensors and will accept SD multimedia cards up to 64GB. Built in memory is just 50MB.

Some other features include 5x Optical Zoom, still image capture (4640 x 3480 pixels) with face detection capabilities, HDMI out and USB slots for direct playback and data transfer, along with 2.7-inch displays. Both new camcorders will cost around 35,000 Yen.
14MO, Camcorders, full HD, Sanyo, xacti